Busabout Guide USA
146978
Busabout
London
,
England
January 27, 2019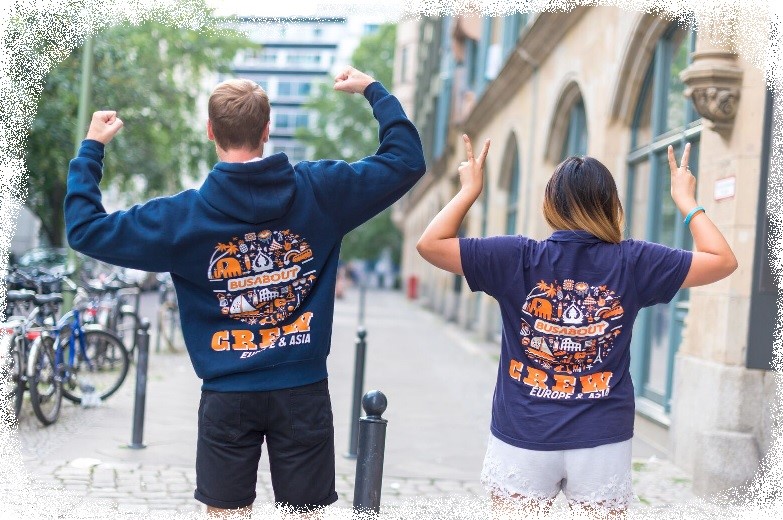 We're not your average travel company. By being the alternative choice we have remained dedicated to our freestyle form of travel.
For 2019 we decided to take our unique Hop-on Hop-off travel style Stateside! Covering 8 destinations across the United States' West Coast, it showcases the highlights of California & Nevada. We live to travel and as travellers ourselves know what makes an unforgettable trip. It's your choice your way.
This passion to explore the world (without costing the Earth) has also developed over the years into our innovative adventures, be it hiking America's national parks, partying at the live music capitals of the south, or marvelling in the big city lights. We give you the choices and flexibility to build your own adventure, so you can live it your way. And no other way
Busabout Guide USA 2019
Guide Applications are now open! We are now accepting applications for the 2019 season.
The United States Guide position is open to work on our Coach Network / Hop On & Hop Off Product, Cross-Country Adventure Tours, and California Adventure Tours.
Busabout Guide USA
Are you addicted to travel? Do you have adventures, stories and tips you are dying to share with fellow travellers? Working as a Busabout Guide, you'll get the opportunity to share your travel experiences with our excited travellers. You'll be spending a summer living a nomadic lifestyle in the United States on one of the following products: Coach Network, West to East / East to West Roadtrip OR California Adventure. You'll get to experience the best America has to offer and not only organize other peoples trip of the lifetime but get the opportunity to make their trip by sharing all your insider tips; from bars and restaurants to the local lingo.
To become a Busabout Guide in the United States you should:
Be addicted to travel
Be friendly, approachable, and have a good sense of fun
Love interacting with people
Be able to relate to people of ALL ages (our core market are 18 to 35 years old)
Be computer literate
Have a thirst for knowledge
Have a lot of energy
The following are not requirements, but are helpful:
United States travel experience
Experience leading groups
Experience talking in front of groups of people
A confident and clear public speaking manner
Experience in hospitality focused roles
Application Process
Step 1: Submit your application and cover letter
Step 2: If your initial application is accepted then you will be invited to an intial phone interview
Step 3: Final video interview
We will email you on receipt of your application and let you know if you are invited for a phone interview. Please make sure you check your emails regularly (including your junk mailbox just incase!). Upon interviewing, you'll get the opportunity to learn more about Busabout, as well as a chance to ask us any questions you might have.
If you are successful in your interviews you will be offered a place on a Busabout Training Trip for a guiding position to work on the following products: Coach Network, West to East / East to West Roadtrip, and California Adventure.
The training trip will begin in early April 2019 and last for approximately one month. During training you'll visit and study various destinations on the tour itinerary. This is a VERY intensive course designed to be demanding and thorough. However, the benefits you'll receive on completion far out-weigh the work you've put in. Those who complete the training will be offered a position to work with Busabout during the summer season of 2019. Our Busabout season runs from May to October, with the possibility for winter work based on performance results.
FAQs
Do I need a United States Passport?
Yes.
Am I required to pay a bond?
To secure a place on our training program you are required to pay a training bond of $200 USD. This is fully refundable to you upon completion of your first month of work.
What dates is the position for?
U.S.A. Guide: Your contract will be from May until October. The training trip will start in April, and people who successfully complete the training will start work in mid-May or early June after this training is complete.
Am I able to request time off during the season to go to a wedding/ go travelling etc?
While we are a company that will work around wishes of their staff, there will be no holiday authorised between June to the end of September, except in exceptional circumstances. However, of course you are free to travel on your time off.
When do applications close?
All applications will close when all current interview dates are full, so get your application in as soon as you can! If applications close before you get a chance to get your application form in, just keep checking back in case we re-open the applications.
I applied and still haven't heard back..
We have a very high volume of high-quality applicants and it may take up to four weeks to respond to applicants. If you haven't heard from us within the three-week period, you have not been successful on this occasion. Because of the high number of applicants, we are unable to get back to everybody with individual feedback. However, please check your junk mail as our interview invites sometimes get sent there.
Still more questions?
Email recruitment@busabout.com and we will get back to you as soon as we can.